Pedal on Parliament, for those who haven't heard of it, is a gathering of cyclists before the Scottish Parliament who believe that the Scottish government need to do more to support cyclists and pedestrians in this country. Last year, 3000 riders made it – this year it was 4000 despite the gloomy weather. The message, we hope, was clear: we need more.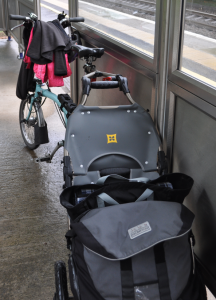 I took my Brompton, expecting that there might be a few other bikes on the train – but it was surprisingly quiet. I was, though, headed into Edinburgh several hours before the start of the ride.
I dressed my bike with my Burley Travoy, mostly to show it off to folk who may not have realised that not all trailers are designed for long hauls or children. I got a few comments from folk who saw how it could double as a shopping trolly (which is actually how I tend to use it) and thought it was a good design. I'd attached the Brompton's front bag to the trailer just so that there would be something on the trailer.
I wore my helmet to and from Pedal on Parliament 2, but I took advantage of the opportunity and left it attached to my trailer for the group ride from the Meadows to the Scottish Parliament. It was… unbelievably liberating.
I've written a separate post about my bicycle helmet and why I wear it when I cycle in the city. Have a look here: http://www.techaddiction.co.uk/2013/05/bicycle-helmets/
What I saw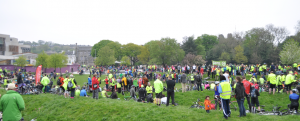 I was absolutely tickled at the sheer number of families that were there with kids. I know it must not have been easy cycling down the Royal Mile with them (cobblestone streets aren't pleasant at the best of times), the poor dears must have been terribly shaken (literally) by the time they reached the bottom. I don't have kids but I desperately hope that, by the time I do have them and they're big enough to ride their own pedal bikes, the roads are friendly enough that I can cycle along with them to school without worrying about their safety.
I was actually surprised by the amount of florescent I'd seen that day. I was expecting less. Really, I was expecting it to look more like the Pedal for Scotland last year where the vast majority of cyclists were just cycling in whatever they thought would be most comfortable for the day (generally shorts and t-shirts), like a miniature  Amsterdam or Copenhagen, if only for a couple roads for a couple hours.
On the day, I ended up wearing my florescent pink cycling jacket, mostly because there were some people I was hoping to meet up with and there aren't many who wear hot pink on their bikes. I wanted to be found in the crowd.
I usually wear the florescent so that cars will see me when I'm pedalling  down the road. I'd recently read a study done by Direct Line which used eye tracking to find that that one in five cyclists aren't seen by car drivers [source]. I don't fancy being one of those unseen cyclists, especially when I'm cycling down the middle of the lane trying to avoid the horrible potholes.
What I hope happens now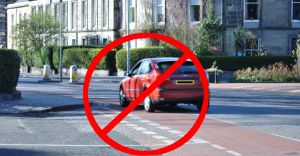 As I'm sure you can tell, by now, all I want is a place I can cycle without needing to worry that I'm going to end up under someone's wheels. The current infrastructure is neglected — the advanced stop boxes are not enforced; cars park in cycle lanes; cycle lanes end just before roads  narrow (where cycle lanes are most important); cars frequently ride in the cycle lanes, endangering cyclists currently using them; etc.
I really hope that our turnout shows those who have control over the planning and budget that we expect more of them.