I've wanted to write this for a long time, but got rather scared about posting anything about feminism after the recent "It's about ethics in games journalism" nonsense.
The scariest thing is that I have friends who genuinely believe that it really WAS about ethics in games journalism, not about keeping minorities out of their exclusive club.
Feminism in Technology
I'm in the middle of this really great Venn diagram, so I've started seeing a lot of similarities in campaigning and threats. I write software user manuals, so I consider myself a part of the software industry. I also commute by bike (at least, I did until pregnancy made me take a break) and have gotten involved in cycle campaigning.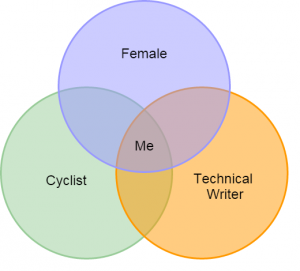 As a woman in technology and as a cyclist on the roads, I'm a minority. And, it turns out, minorities don't really get treated fairly…
Physical threats
Inpatient drivers and catcallers don't necessarily realise just how threatening they are. What they do have in common is that they're unashamedly using their position of power.
It's unlikely that a car that's driving too close to a cyclist is going to be injured. The car can, then, be used as a tool to threaten a cyclist with little risk to the driver. Likewise, a catcaller is unlikely to catcall if they think there's any risk that the target would harm them back.
Victim Blaming
When I come home, upset because my life has again been risked on the roads, the reaction from friends and family is rarely "I wish people were more considerate of you! The police should do something about this!" Instead, it's questions of "Were you wearing high-vis?", "Were you wearing a helmet?", "Why don't you just stop cycling if it's making you so miserable?". It doesn't matter what someone is wearing – I should not be punished with assault just because I'm not wearing what people want me to wear.
It makes me angry, deeply angry, that friends and family should push me to give up something I love. I am not the one doing wrong here, I am not the one who needs to change. By advising me to give up cycling, they are implying that it is my own fault that my life is risked, not those other people who are breaking rules and threatening me.
Any sensible person wouldn't throw themself into the path of a vehicle that would injure injure them. People on bikes aren't the ones who wield the strength and power.
Women for years have been fighting for the right to wear what they want and to walk where they want without fear of assault.
I will cycle in a short skirt without a helmet– Why should that mean I'm asking for harassment?
Anti-Feminism and Vehicular Cyclists
I have a friend who's a staunch vehicular cyclist. The reasoning being "I have the right to be in the centre of this lane, the motorists are obligated to slow down and wait until it's safe to pass. There's no problem here, just people not following the rules. Enforce the rules and you won't need to take away road space just for cyclists.
This same friend of mine thinks it's wrong to have women-only groups in the technology sector, on the grounds that it's unfair to men.
I can't argue with the "fairness" of it. Yes, it's unfair to exclude men, but it's also unfair that the minority groups such as women and people of colour are forced to endure marginalisation and harassment on a daily basis and we rather need to have a support group lest we leave the industry altogether!
Yes, it's all well and good saying that enforcing the rules will make the roads a friendlier place — but people are only human and they will use the power that they have. They'll do reckless things because they aren't always aware of how much more power they have than the more vulnerable road users.
Where resources go
There is a problem with allocation of resources in both trying to get women into STEM and get more people onto bikes. There's a huge number of campaigners all crying out for mostly the same things, but those with the money keep insisting on spending it elsewhere.
There's a huge number of big software companies who are throwing money at schools to try to get kids into software development and especially the young girls. They should be spending money at trying to retain the few women they have already in the field which would, in turn, provide role models for the young girls they're so desperate to get in. This would involve upsetting some folk (like those who think it's unfair to have women-only groups) but it would benefit everyone in the long run if there was a more diverse industry.
Something similar happens with money to get people onto bikes . The politicians keep throwing money at the "easy solution" that won't upset the motoring lobby– cycle training. But training won't get people to STAY on their bikes. To get people onto their bikes and to get them to stay, there needs to be infrastructure changes. They're expensive, and it requires ruffling some feathers, but it'll benefit everyone in the long run.
 Cultural Change
There needs to be a cultural shift, there's no question about that. Changing our society to make women equal, truly equal, is not just about paying them the same and letting them take time out for families. It's also accepting fathers as caregivers, too. It's about no one doing a double-take when you say that your closest female friend is a software developer, or that your father is a nurse;  anyone should be able do the work that they want to do.
On our roads, it's about making the groups of such disparate vulnerability all equally safe. This means giving them their own space. This means enabling people to choose which mode of transport suits them best, because it is most convenient or pleasurable, not because it is most safe.