When I was in high school, probably about 15 years old or so, I found out that my best friend's parents let her cycle the several miles to the town library. Not one to pass up on an adventure, I begged my own parents to let me join her on a trip. They gave in, but only because my best friend had been doing it for over a year already and they knew I wouldn't be alone.
The journey on a map looks quite straightforward – down one big long road and then up the other again.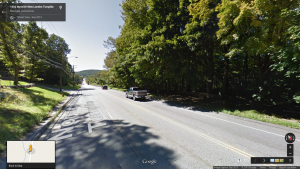 Of course, it was down a great big hill and then up another great big hill. So, she and I would meet at the bottom of a great big hill and we'd cycle up the other hill together. It was only four miles, but it was a fantastically far distance to go without my parents around – at that point, the farthest I'd strayed from them without being driven was a quarter-of-a-mile walk to deliver something to the post office.
It was then that I realised the freedom that the bicycle could offer me. If I could cycle somewhere, I didn't need to wait for my parents to give me a lift. I could cycle to the library, to my friend's house, or to the grocery store two miles away. I didn't do it for fitness, but to get out of the house.
By 17 years old, I was quite happy to cycle the 8.5 miles to a friend's house across town, bicycle laden with lunch, a change of clothes, books, and whatever else I'd want with me for the day's adventure. I still remember cycling across town one sunny summer day – at 90F (32C) and humid. I wasn't bothered, just stopped to take a drink of water every mile or so.
[At this point, I'd include a photo of me with my bike, but I can't seem to find it just now!]
I wore a helmet (legally required until age 18), but not fluorescent colours. It's not that it was safer to cycle in my hometown back then, but just that it hadn't occurred to me that it could be very dangerous. The main roads were wide so I could cycle in the gutter and leave plenty of passing space and there weren't many cars on the back roads. Actually, the only thing I was ever really scared of on my bike was an angry dog tied out in a garden at one of the houses halfway up the steepest hill – he pulled the chain off the doghouse one day and chased me the rest of the way up the hill, starling at my heels.
I got a car at age 18, gifted from an elderly aunt who could no longer drive. I'd graduated high school, started college part-time and worked part-time. Driving saved time, especially with the distances involved (10-20 miles, depending on which campus I had to drive to), so I all but abandoned my bike to the shed.
I secretly celebrated the handful of times when my car would break down on days that I didn't have class and I was able to cycle the five miles to the shop where I worked. I remember my family getting upset that I was using my bike to commute rather than asking to borrow a car. In the years since I had started my cycling, traffic had gotten busier along the main thoroughfare and they were worried about my safety. If anything, I worried less as my familiarity and comfort with the roads increased. I prided myself on being one of only a few cyclists in the entire town (I knew the other two, as our paths would very occasionally cross).
When I moved to Edinburgh, at age 21, I initially didn't take a bike with me. I spent the majority of my first year of my undergrad wishing I had a bike, though, to visit the farther corners of the city in the free moments between studying and societies. When I returned for my second year, I brought with me a budget mountain bike from Wal*Mart that would suffice for the few years I had left of university and wouldn't make me cry if it rusted to bits.
The first time I tried to cycle on the streets of Edinburgh, though, I discovered the fear. The traffic was on the wrong side of the roads, the signal lights weren't overhead where I was expecting them, the roads that I frequently walked were one-way in the opposite direction, and there were cars and buses and taxis! I found myself paralysed. I remember standing outside my flat with my bike, unable to get on it and cycle on the roads. I walked to the Meadows and cycled along North Meadow Walk. I intended to cycle back along Melville Drive but couldn't bring myself to join the road. I cycled back along the pavement until I reached the North Meadows Walk cycle path again. Confused by my nervousness I looped around the Meadows a few times, avoiding pedestrians as best I could, until I finally made myself cross at the pedestrian crossing at the East end of the Meadows, turn Right onto Melville Drive, and cycle on the road back to the West end of North Meadows Walk. I mounted the pavement and congratulated myself but didn't do it again for awhile.
I remember taking it slowly, re-learning how to cycle in Edinburgh. I remember mostly cycling with my flatmate who was, himself, an avid transportation cyclist. He cycled to class most days while I walked, but if we had somewhere to be together and needed to be there fast, then we could cycle and I would cautiously follow him. I remember the day I raced him across quiet streets to get to flat viewings and we were both surprised by how I'd taken to cycling. It took two years for me to cycle Edinburgh with confidence.
After I graduated, I donated my rusted bike to the Bike Station. I moved down to England where my boyfriend was working and found myself again wishing for a bike. There was a particular style of bike that I'd seen locked to fences in Edinburgh but couldn't seem to find new or used! I was desperate for a racing bike like I'd used back in Connecticut, but with a dropped top-tube so I could still occasionally wear skirts. I managed to find one on eBay, collection-only in a village outside Nottingham. I fell in love with the cherry-red beauty and duly collected it and had to cycle it the 5 miles back into Nottingham because I couldn't take it on the bus.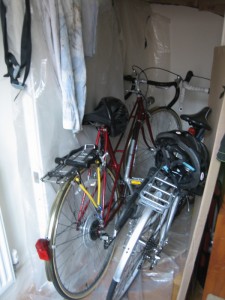 Then, I moved to Cambridge. Cambridge, I'm told, is a cyclists dream in the UK. I found it more terrifying than cycling in Edinburgh because there were more cyclists and the drivers were more impatient with us. Where drivers would pass me wide in Edinburgh, or wait behind me until they could, in Cambridge they'd come within a hair's breadth. In Cambridge, I had punishment passes, SMIDSYs, and a healthy dose of "damned cyclists". Cambridge was better in some ways, but much worse in others. But I had a bike that I loved and a need to get out and see the city. I cycled into town every Saturday and Sunday from where I was staying in the outskirts, despite bad weather and impatient drivers. I loved it, despite everything.
I moved to Norwich where my fiancé had gotten transferred and took the train into Cambridge daily. That was when I invested in a Brompton which forced me to leave my beautiful and beloved Raleigh in the storage cupboard in Norwich rather than risk theft or mud at the bike shed at Cambridge station. I was sad about not riding my road bike, but the Brompton was much more practical. After a year and a half of English cycling, I moved back to Scotland and resumed my cycling in Falkirk and Edinburgh.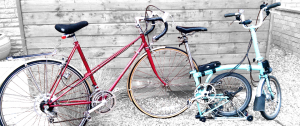 Things in Edinburgh had changed, noticeably, in the time that I was gone. The cyclists I saw weren't only other students. There were more cyclists, more high-vis, more helmets. There was strength in numbers reminiscent of I'd seen in some parts of Cambridge but the drivers still didn't have the impatience of the drivers in Cambridge. I couldn't cycle as hard or as far as I'd gotten accustomed to on the flat roads of the English city, but it was fine. There was more of a community of cyclists in Edinburgh, rather than the isolation of cycling in Connecticut, or the free-for-all folks-on-bikes in Cambridge. There were a few sporty cyclists, some students, and a whole load of folks who're just enjoying getting to work.
Before returning to Edinburgh, I didn't see myself as a cyclist. I was just a person who happened to ride a bike. It was only in a conversation on the phone with my dad, when I'd commented about how much cycling had changed in Edinburgh and how happy I was to be cycling there again that he told me "Oh, Denise, you've always been a cyclist, you've always loved your bike." That's when I started reading blogs by cyclists, learning about cycling campaigns like Pedal on Parliament. I wrote a blog post about it, at the time, describing the different categories of cyclist that I could associate myself with.
I still don't really see myself as a cyclist, it's not my profession and it's not even what I would consider a hobby. I only really ever cycle as A-to-B transport, but cycling is my favourite mode of transport and advocating for the bicycle has become my passion. It's been really hard giving it up while I was pregnant, and now because I can't carry an infant — but just wait, I'll be back out there, soon, cycling to the train station!